Last week, The EUPILOT shared a booth with its partners EUPEX and EPI in Dallas at the International Conference for High-Performance Computing, Networking, Storage, and Analysis (SC22).
During the week, our partners discussed the European Processor Initiative and its first implementation in future European pilot systems with the audience. Also, it was an excellent opportunity for The EUPILOT to talk about the achievements and the goals of the project. Thanks to this collaboration, we had a role to play in its success!
See some pictures of The EUPILOT and partners at SC22!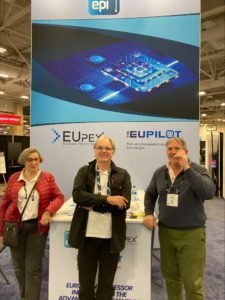 John Davis, who is one of our partners, presented "Anyscale with RISC-V: Powering the Next Generation of (IoT) HPC Systems" during the Birds of a Feather session, which was moderated by Steve Wallach.
To get the ball rolling, the BoF introduced the HPC community to the RISC-V ecosystem and how it can enable research and development. It was a short panel presentation on the status of the RISC-V HPC ecosystem, followed by a Q&A session where the audience was able to ask the panel questions.
See the full presentation here.